Software and Hardware Unite. RFIDENTITY's tags and chips are specifically chosen to match industry-leading readers to ensure your solution delivers signals reliably and efficiently. What's more is that RFIDENTITY passes along industry leading discounts on hardware to further make our solutions cost effective, while affording you the opportunity to purchase the best readers, tags, and chips required to achieve your RFID goals.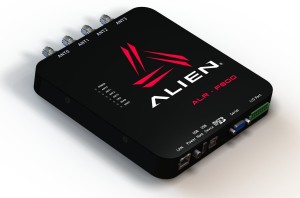 Fixed RFID Readers
Robust readers are designed for warehouse applications, loading docks, indoor employee and asset tracking, as well as harsh environments in mining, oil and gas, and construction. Our technology hardware partners provide a wide range of fixed RFID readers that can help you achieve maximum visibility into your enterprise assets. Automatically identify, track and store RFID tags information on the fly, allowing you consistent control of your operations.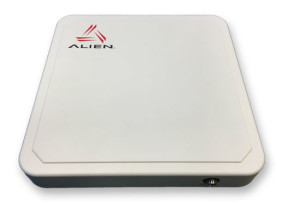 High Performance RFID Antennas
Wide assortment of available antenna designs that deliver high-throughput and high capacity communication with deployed readers. Powerful antennas enable organizations to capture moving RFID tag data from a variety of deployments in personal protection equipment (PPE), inventory, high value assets, employees and more. Antennas gather information for the reader allowing RFIDentity's software the ability to manage critical information to and from every point of business activity.

Handheld RFID Scanners
Handheld RFID Readers are designed to make that job faster and easier. Our technology partners offer a full range of high-performance, highly rugged RFID handheld readers targeted for use in very demanding applications and environments. Designed for medium- to long-range RFID read applications, handheld readers allow employees to increase productivity by increasing worker mobility. Rugged handheld RFID readers excel in virtually any environment—indoor or outdoor—from oil and gas, mining, and construction to all industrial applications.
RFID Tags
Oil and Gas Industry
RFID tags specifically developed for the oil and gas industry, asset tracking, down hole tags, employee tracking and more. Increase onsite-drilling productivity with RFID technology! RFIDENTITY offers a full range of harsh environment passive and active RFID tags for any application in the oil and gas industry.
Personal Protection Equipment
Personal Protection Equipment requires special tags designed for the garment industry but manufactured to withstand destructive applications. RFIDENTITY provides a full range of RFID garment tags developed specifically for PPE products used in industrial applications, construction, mining, and oil and gas production. When manufacturers embed our technology, customers begin to realize the added benefits of automated asset tracking.
Commercial Laundry
Ultra-Rugged UHF RFID tags offer greater versatility in commercial linen and laundry processing systems by offering increased reading distances and the ability to read hundreds of flat linens quickly and accurately in harsh commercial laundry environments. These specially designed RFID tags incorporate the newest materials and antenna design, made to withstand 60 bar of extraction pressure while improving reading range 30%-70% over previous versions. Durable, soft UHF RFID tags are extremely flexible and ideal for flat linens and garments. The ultra-rugged nature of the tag's design and materials is intended for long deployment cycles, allowing the tag to be reused into another linen item within the intended life-cycle time, reducing total cost of ownership. These tags are approximately two inches long and less than a half inch wide – about the size of a shirt stay. When sewn into linens, the small, flexible, unobtrusive tags are virtually unnoticeable.
Corrosive Chemical Applications
High-strength metal mount ceramic casing tags used to identify and track assets containing metallic components exposed to harsh environments, or any assets used in the oil and gas or industrial industries. 3M adhesive backing allows ceramic tags to be attached to virtually any type of metal container only requiring one square inch of mounting surface. 
 Hazardous materials (HAZMAT) comprise explosives, flammables, oxidizing substances, poisonous gases and radioactive materials. Corrosive resistant RFID tags can be safely attached to metal drums and high-pressure gas tanks to facilitate tracking of hazardous materials through the whole supply chain. These tags can be directly attached to metallic surfaces without degradation in readability.
Energy Industry
Durable tags developed for the energy industry allow utility companies to track hard assets that are critical to running a profitable business. RFID technology reduces the chance that an asset is unable to be located during an emergency power outage saving utility companies thousands of dollars in lost revenue and unnecessary equipment expenditures. RFID tags are available in multiple configurations that meet several ASTM standards. High temperature tags that can withstand up to 300C and extreme shock are available for a variety of applications and configurations. Contact RFIDENTITY today to discuss your application needs and we will develop a custom solution that meets your needs.
Automation & Manufacturing
Streamline industrial manufacturing processes to increase productivity, safety and security with automation and manufacturing solutions from RFIDentity. Deploying a network of RFID transponders allow businesses in several industries to calibrate and track equipment use, repair and maintenance efficiently. This enhances equipment lifecycle management and automates critical maintenance record keeping on capital assets, reducing overall administrative and maintenance costs. Our software API's connect us to just about any MRO service solution, whether it is a legacy AS400, Linux or Windows based application. Keep track of your preventative maintenance program and set up alerts to notify workers of upcoming service intervals. Integrated active RFID solutions can even alert employees in the event of an equipment failure.
RFID software solutions designed to automate business and increase productivity!
"Oil and gas companies are adopting radio frequency identification technology to better manage assets and inventory, improve drilling and maintenance operations, and protect workers in dangerous environments. But industry experts say they're missing out on a powerful application," says Jennifer Zaino of RFID Journal. RFIDENTITY's suite of applications is the answer for companies that want to build a scalable RFID infrastructure that will reduce operating costs, increase productivity and provide their workforce with the safest PPE technology available today.